New Smyrna Beach
is 15 miles south of Daytona Beach and south of Port Orange. It's just north of Cape Canaveral and has easy access to both Interstate 95 and Interstate 4. New Smyrna Beach is an arts town, named one of "America's Top Small Cities for the Arts." It's home to the Atlantic Center for the Arts, an artists-in-residence retreat and educational facility nestled on 69 acres that attracts some of the world's most famous artists who come here to work. New Smyrna Beach is completely surrounded by water; the Atlantic Ocean to the east, the Intracoastal Waterway to the west and Mosquito Lagoon in between. It's quintessential Florida in many ways - a city nestled among moss-draped trees with a laid-back atmosphere and a 20-mile long beach. The town is amazingly free of the crowds and hustle-bustle of other Florida beach towns.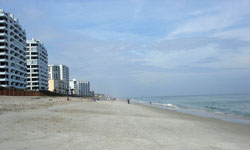 New Smyrna Beach has a great beach, voted "Best Beach in Florida" by readers of Florida Monthly Magazine. More than half of the beach is within the Canaveral National Seashore. It's also the closest beach to all of the central Florida attractions. The warm climate allows for year-round swimming, sunbathing, surfing, windsurfing, beachcombing and other outdoor activities. New Smyrna Beach also offers fishing boat charters. The hard sand beach is great for walking and cars are allowed on parts of the beach during the day. New Smyrna Beach has several fine restaurants, taverns, galleries and boutiques.

New Smyrna Beach has a median home value of $212,600. Home values have gone up 10.6 percent since 2013 with predictions of a 6.0 percent rise in 2015. The median list price per home square foot is $157, which is higher than the Daytona Beach Metropolitan Area's average of $100. Home currently on the market are listed at a median price of $245,000, while the median price of homes that sold is $218,050. The median rent price in New Smyrna Beach is $1,300, which is slightly higher than the Daytona Beach Metro median of $1,100.