Pools and Lanais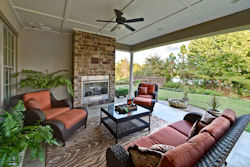 People moving to the state of Florida may learn a new term when they begin their house-hunting journey: lanai. For many people outside the state, they have no idea what it is, although it's quite common in Florida. Just what is a lanai and do you need one?

Basically, a lanai is a covered porch or veranda in a tropical location, or surrounded by tropical vegetation. Itís a great space for a container garden, and is usually screened and used as a living space. Itís generally furnished with casual chairs, chaise lounges, tables and benches.


Many times, youíll find a swimming pool contained within the lanai, along with pool-type furnishes and pool toys. The screen enclosure around the pool and lanai is referred to as the pool cage. A ceiling fan is often installed in the lanai to make sitting outdoors in the hot summer days more comfortable. Some families enjoy eating dinner at the lanai, especially in the fall and spring.

Keep in mind the location of the lanai is a very important consideration. Florida summers are hot and humid, so a north-facing lanai is considered perfect. It never gets direct sun. East or west facing lanais get either direct morning or evening sun, making it somewhat difficult to use during those times. A west facing lanai may be almost impossible to sit there on a hot summer evening. South facing lanais have sun shining in almost all day long.

A pool and lanai is certainly not a necessity when relocating to Florida, but for many people itís a ďmust haveĒ and part of the ambience of Florida living.