Ormond-by-the-Sea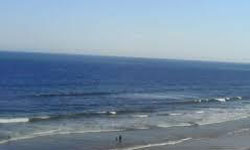 is a seaside community located about eight miles north of the city of Daytona Beach. Itís known for its exceptional quality of life, peaceful and quiet, yet not far from all the major attractions of the Daytona Beach area. Ormond-by-the-Sea is bounded by the Atlantic Ocean to the east and the Halifax River to the west. Traditionally, itís been called the North Peninsula, or OBTS by locals. There are two main roads in Ormond-by-the-Sea. State Road A1A (also known as Ocean Shore Boulevard) runs along the Atlantic Ocean, and John Anderson Drive runs along the Halifax River. Ormond-by-the-Sea is just a little more than a half-mile wide, and offers an abundance of attractions and amenities for residents. Itís been ranked by Money Magazine as one of the ď100 Best Places to Live in the United States,Ē for its climate, stable housing market, low cost of living and excellent health care.


Tomoka State Park is only three miles north of the Ormond-by-the-Sea and is perfect for fishing, boating, canoeing, hiking and camping. On the ocean side there is swimming, sunning, beachcombing, fishing, sailing, biking, golf and tennis. Although small in size, Ormond-by-the-Sea supports at least six distinct ecological zones. Several species of sea turtles are known to lay their eggs here, including the leatherback, Atlantic loggerhead and green turtle. Just inland is the Temperate Beach Dune, and slightly more inland is the Coastal Strand. Then there is the Halifax River with its tidal marshes, salt marsh and mangroves. Oysters and blue crabs are common in the shallow waters, as are a variety of wading birds including egrets and herons.

In 2014, the median home value in Ormond-by-the-Sea is $148,500. Home values have gone up 10.9% over the past year and are expected to rise 6.1% within the next year. The median list price per square foot in Ormond-by-the-Sea is $156, which is higher than the Daytona Beach Metro average of $100. The median price of homes currently listed is $175,021 while the median price of homes that sold is $144,150. Median rent in Ormond-by-the-Sea is $1,475, which is higher than the Daytona Beach Metro median of $1,100.