Ormond Beach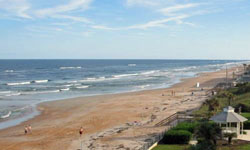 is located at the north end of the Daytona Beach area, north of the city of Daytona Beach. The Ormond Beach area was once home to the wealthy and well-known. Today it features attractions like the Casements and Tomoka State Park, and it's considered the quiet end of the beach. Ormond Beach is an active commercial and residential market in the Deltona-Daytona Beach-Ormond Beach metropolitan statistical area. It has a healthy business climate for manufacturers that engage in global marketing. Ormond Beach Business Park and Airpark, a foreign trade zone, is home to over twenty companies that provide more than 2,000 jobs. Recent studies show the workforce to be educated, productive and competitive with 10 percent underemployed. Seven colleges and universities and the Advanced Technology Center support business needs with career advancement, workforce development and research. Education, health care and government are the area's largest employment sectors. Homes in Ormond Beach are affordable compared to other parts of Florida's east coast. Many people work in the Daytona area, but live and shop in either Ormond Beach or Port Orange. Ormond Beach has a reputation of having one of the best school systems in the area. There's also a large population of retirees and "snow birds" who come down in the winter to escape the cold northern winters.

Ormond Beach is also home to more than a dozen parks, including the Birthplace of Speed Park, Central Park and historic Tomoka State Park. These parks provided recreational opportunities, such as hiking, canoeing, kayaking, fishing and other water sports. Bicentennial Park in Ormond Beach offers 40 acres, a scenic boardwalk, fishing pier, picnicking and nature trails. Just a few miles from Ormond Beach is Bulow Creek State Park, which preserves one of the largest remaining stands of Southern Live Oak Forest along the East Coast of Florida. For shopping there is the Ormond Mall, Ormond Town Square, River Gate Shopping Center, South Forty Shopping Center, and The Trails Shopping Center.

As of 2014, the median home value in Ormond Beach is $174,600. Ormond Beach home values went up 10.7% over the prior year, with predictions they will rise 5.8% within the next year. The median list price per square foot is $107, which is higher than the Daytona Beach Metro average of $100. The median list price of homes for sale in Ormond Beach is $200,000, with the median price of homes that sold being $197,125. Median rent price in Ormond Beach is $1,200, which is higher than the Daytona Beach Metro median of $1,100.